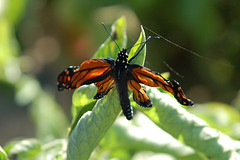 BECOMING
Oh, poor little creature thrust into the world
With fragile feelers and wings half-furled,
Fearing the unknown, dreading so soon
The challenge of life outside the cocoon.
Feeling fore-boding at freedom's call,
Suspecting the nectar of life as gall.
You would not go forward, you cannot retreat
To the dark little world in ruins at your feet.