BURDENS AND BLESSINGS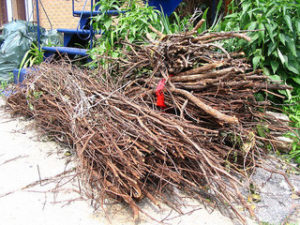 I imagined I stood, with other believers
In a seemingly endless line
Where an angel distributed bundles of sticks
And I wondered which one would be mine,
For each bundle, I saw, was different
And each individual stick
Varied as well, in shape and size;
Some light, others heavy and thick.
The line moved steadily onward.
When the angel called my came
He indicated a pile at his feet
And said "This one is yours to claim.
"These sticks represent the burdens
You must carry along life's road.
The Master, who knows you and loves you
Has carefully chosen your load."
The bundle was heavy and awkward.
Some sticks appeared more like small trees!
I tried to lift it, but couldn't
And wept, as I fell to my knees.
Just then a voice, tender, familiar,
Commanded "Peace! Be still.
You have not disobeyed Me,
Just misunderstood My ways."
"Oh thank you Lord," I whispered
And bent to take the first stick,
But I could only lift one end
For it was quite long, heavy and thick
"No child," He gently chided,
"You do not as yet have the strength.
You must allow Me to choose for you
Each trial – its weight and its length.
"This is the present day's burden."
He held out a small thorny twig
And it took all my faith to hold onto it
Although it was not very big,
But the smart of the thorn-pricks was mingled
With a sweet mysterious blend
Of joy and peace and comfort,
For my Lord held the other end
And I knew as the vision faded
That no matter what I must bear,
I will find His strength in my weakness,
And rejoice, just because He is there.
© Nesta F Sutherland
In all their affliction He was afflicted …
Isaiah 63:9
I will never leave thee, nor forsake thee.
Hebrews 13:5